NEWS , EVENTS & LATEST VIDEOS
NEXT EVENTS
Our next event is this year's Automotive Testing Expo in Stuttgart, Germany. Visit us at booth 1022 and see our systems live in action!
If you cannot make it to this event, feel free to contact us if you want online product presentations!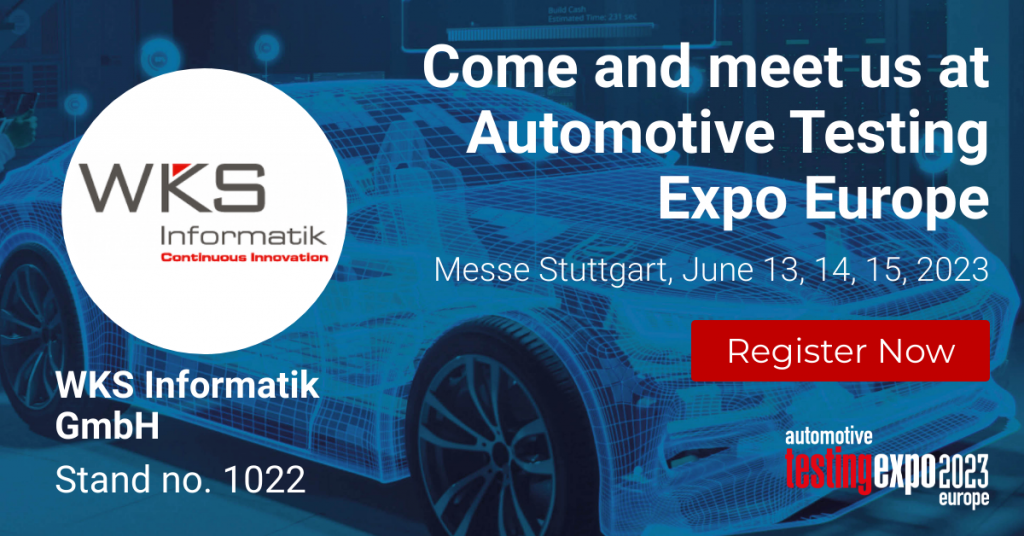 Improving LV124/LV148 ADAS Testing with a Modular, Generic Approach – article published in the NI Automotive Journal
WKS Informatik, an NI Partner, focuses on automated test systems that can remove human error from validation and reduce test times and costs for ECU manufacturers. RTStand LV124 is a fully automated system that tests compliance with LV124/LV148 standards and their specific OEM derivatives. The scalable hardware platform goes up to 96 pins and can include buses such as CAN, LIN, and Automotive Ethernet. – Read PDF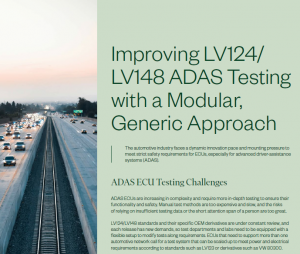 Testing Solutions for Autonomous Driving – article published in the ATZ magazine
Autonomous driving increases the requirements on testing systems. WKS Informatik developed an integrated solution that can be used for very first prototypes as well as for the end-of-line testing.  – Read PDF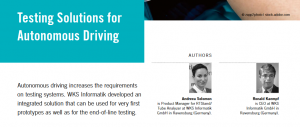 WKS Informatik's Tube Analyzer wins the Innovation Award of the WiR and Kreissparkasse.
This award confirms not only the top technical features of the product, but also the innovative force and economical success of WKS Informatik.
According to the jury, "due to the deeper and precise analysis capabilites of the Tube Analyzer, the quality of measurement systems can be improved drastically. The product, and the concept behind it, can sustain the company for the following years, as there is no comparable product on the market and the diversity of its use cases can open a bigger market."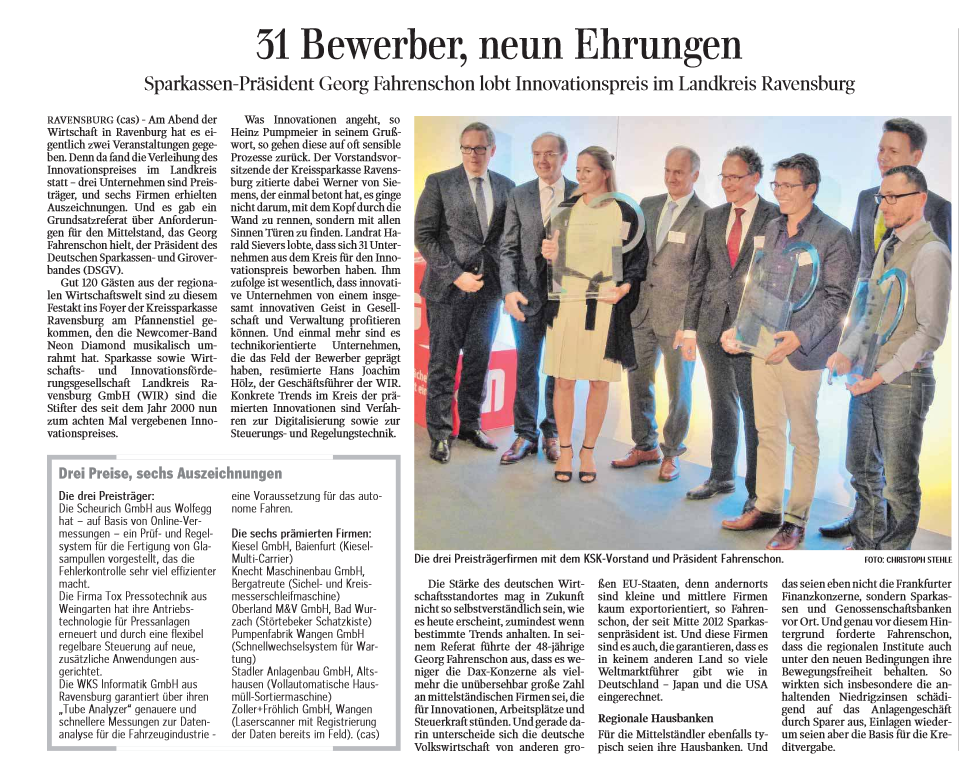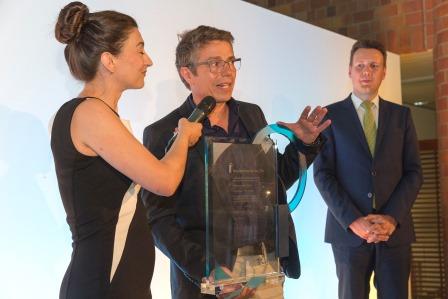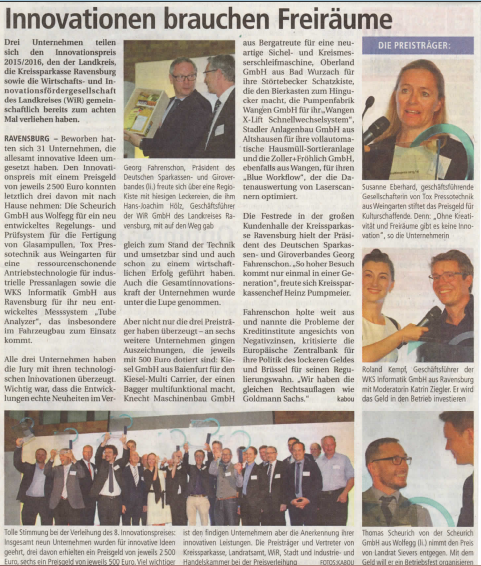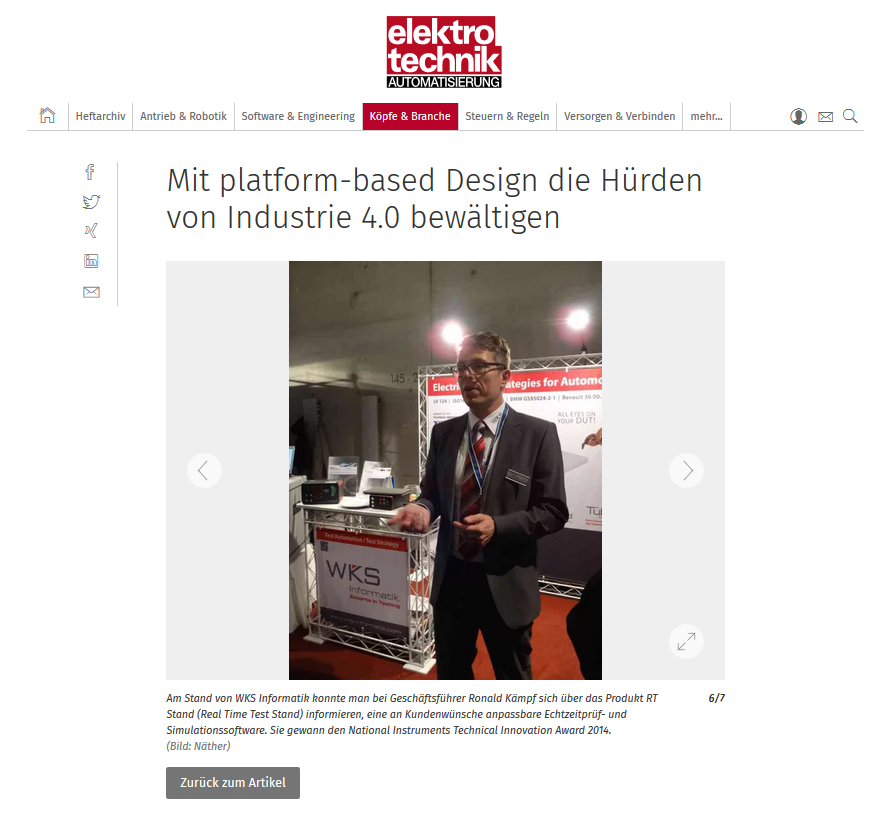 RTStand LV124 LV148 fully automated automative testing with automated PDF reporting
RTStand LV124 / LV148 - Delivery Check
RTStand LV124 TestRun - fully automated test run for LV124 / LV148 testing with CANoe and CANape
RTStand CustomizeMonitoring - automated customization of logging rate and limits for LV124 / LV148
RTStand SignalGeneration - automated arbitrary and interruption generation for LV124 / LV148 testing
RTStand VariantHandler - automated DUT definition for LV124 / LV148 testing
RTStandLV124- BuildOnConcept - Support for LV124 / LV148 / LV123
RTStand LV124 Starter Tests
RTStandLV124 LogViewer in 25s
RTStandLV124 Fully Automated TestRun
RTStandLV124 VariantHandler
RTStandLV124 Preview
Autonomous Car Solutions with RTStand
RTStand - Build Your Own System
RTStand - Demo with VeriStand Models